"Inoculate" Yourself from Quitting Before You Want To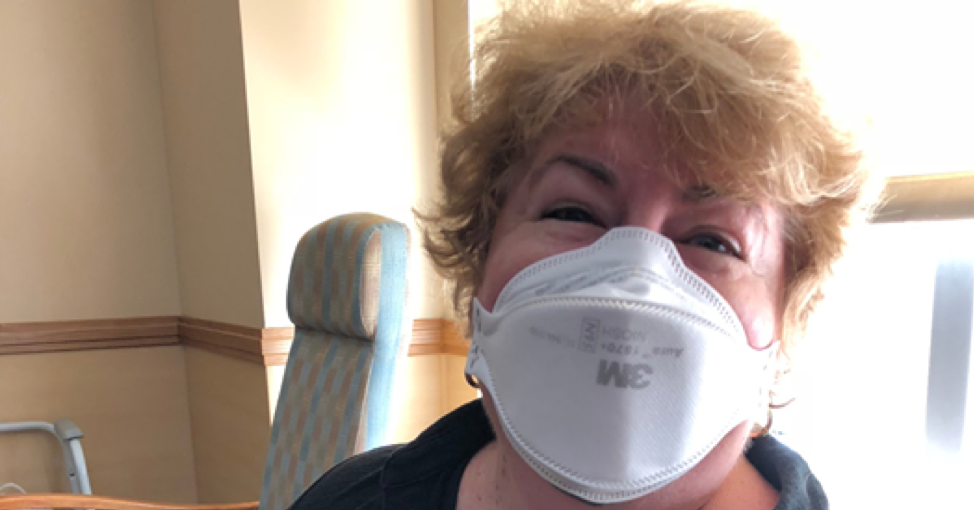 Discouragement is contagious! Especially between a husband and wife who work together.
It would be nice if we could put on a mask, like Connie has above, and keep it from spreading.
Many times, one of us hits a mental roadblock, and the other is there to suggest a detour and offer encouragement.
If we start a side gig or full time business, there is no-one to tell us how to do everything. We have to figure it out. We see where we are and we have a big vision of where we want to be.
The distance between them can seem huge and the path isn't clear. That is when it's easy to get discouraged.
Click here to get the roadmap that we found to guide us.
Having reasonable expectations at these times is a big help. It's okay to have a big vision, but my focus needs to be on the next step.
When we're wearing the hat of "employee" at our job, we're expected to follow instructions at some level. We're paid to do what the boss wants. We (usually) don't have to figure out what that is.
When we're wearing the hat of entrepreneur, it's a whole different game and we need a whole different mindset.
Building a business isn't easy for most people. Success requires learning new skills and making lots of mistakes.
Unfortunately, many eager folks in the network marketing world make it sound so easy. They're afraid they'll scare prospects off if they tell them the truth.
Most people get discouraged when they figure out how much work they have to do, especially the work on themselves.
They don't fail; they just quit.
We found out that if we expect it to be hard work from the start, we can prevent getting discouraged.
A great way to build a real set of skills is explained in the free, 10-day mini course that we started with...
about attracting prospects, instead of chasing them.
Click here to get this free course right now.
Building a business, and building valuable skills, takes time and practice.
Our friend and mentor explains it this way...
It's common for new people in the network marketing profession to innocently and naively ask some version of this question:
"What do I need to do now to earn money quickly!? Just tell me what to do; show me step-by-step, 'cause I need to make money now."
However, to a seasoned network marketing leader, this question actually reveals a lot about the new team member and their frame of mind.
If answered effectively, it could be sowing the seeds for creating a new, loyal, never-quit type leader in your organization.
But if one answers this question in the wrong way (as most will do), it will most likely be guaranteeing this new recruit will eventually fail at network marketing and quit, as most do.
So what is the right answer? Here's a hint…
Entrepreneurs don't "earn money quickly". Employees do.
Let's talk about how entrepreneurs get paid
A colleague recently shared a story of a conversation he had with one of his recruits, who recently started in the business, and wanted to make a six figure income.
The new team member asked… or more like demanded…
"Just tell me what I have to do right now to make money."
His sponsor responded and he didn't like his response very much, so he repeated his demand…
"No, no, no, just tell me what I need to do to make money…NOW!"
The conversation continued to where the new recruit came to understand that earning a big income in network marketing is not done at all how he expected it to be, and is frankly much harder than he though it would be.
But because he gained clarity on what the path ahead looked like, and came to accept it, he's still in the business today.
You see, this new recruit was looking for a step-by-step, "tell me exactly what to do so I can make money tomorrow" type of answer.
He was coming from a mindset where somebody "in the know" should give them a "one, two, three, jackpot" kind of answer without he needing to think or improve himself.
That's the mindset of an entry-level employee, not an entrepreneur
When employees are hired for a job, they get paid no matter what they do or how well they do it.
The employer trusts that, over time, the employee is hopefully going to get good enough at that job so that whatever they're paying is worth it.
The employee shows up for work on that first day and asks…
"Okay, boss, what do I do?"
They go through some kind of onboarding program where they learn a few things, and they start doing the job.
The employer has no problem paying employees after they've performed said job – even if they do it poorly. (The employer accepts the risk.)
That's how employees get paid.
So it's no surprise that when people come into network marketing, straight out of an employment situation, they ask that same question…
"Okay boss, just tell me straight up, what do I do now, so I can get paid…and btw, when do I get paid?"
Well, here's the bottom line…
Any answer to this question will reinforce the employee mindset that it demonstrates. The person needs help understanding what they've signed up to be – an entrepreneur.
Entrepreneurs are not paid like employees
1. Entrepreneurs are not paid to "do a job."
Understanding this distinction will help you set proper, realistic expectations about…
What you can expect from being an entrepreneur
How long it's going to take you to get a return on the education and related actions you're taking from the investment in your new business
Next…
2. Entrepreneurs are paid to get RESULTS by creating VALUE.
That's the only way it works.
You might understand me up to this point, but if you stop here and that's all you explain to your new team members, then their next thought will be…
"Okay, entrepreneurs are getting paid for results; just show me the steps I need to take to get results."
But here's the kicker…
3. You can't get results without acquiring & enhancing relevant SKILLS to the profession you're in.
To develop an entrepreneur – a producer on your team – you can't simply go…
"Do this, this, and this…and then you'll make the big bucks"
…because when you're an entrepreneur, the money you make is a measure of the VALUE you give to the world.
The value is derived from your skill level and skill sets
So you need to do something to provide value to the world by enhancing the skills you possess, and people will respond by exchanging their dollars for the value you provide them, based on how effective you are at helping them see that value.
So to get results, you need new skills.
Some networkers come with existing skills or talents, that give them a head start over others, but most of your recruits will not be as prepared, so generally…
4. You have to WORK to acquire new skills – in the form of study, action, evaluation, and repetition.
If you are an entrepreneur and you need skills to produce results, and entrepreneurs are paid to get results, then which is the more reasonable question for an entrepreneur to ask?
A: "Hey, tell me exactly: what do I have to do to make money right now?"
Or…
B: "What skills should I focus on learning first (or now) so I can get good at __________ and what type of results might I expect over the next 4 weeks, based on what you know about me?"
Know the answer? 😉
Here's my point: what your upline should be doing is teaching you a new professional skill set and you should be clear about the skill sets you are learning and how they help you in your business.
Any profession in this world doesn't come easy
Not only do you need a collection of skills to be competent in a profession – you need to practice those skills over time to achieve mastery.
Doesn't mean you can't get results quickly. It just means that results will be proportional to your skill level.
One of the things we do with our students and team members, is help them learn new skills, one skill at a time.
As they learn more skills and start implementing what they learn, results start growing, and they start learning others skills to enhance their performance.
And eventually, they'd be able to perform these skills more precisely and effectively to produce more consistent and bigger results.
Earning an income in this business depends on your PROFESSIONAL skills as an online network marketer, i.e., as an attraction marketer.
So when somebody asks…
"How do I make money now?"
Where they are coming from is…
"How can I get the benefit of an entrepreneur and guarantee I get paid like one, without learning any new skills?"
In other words…
"Tell me what to do, instead of what I need to learn. How do I get paid as an entrepreneur, but operate like an employee?"
Now, don't get me wrong…
There's nothing wrong with having a job or being an employee!
But it's important to understand that the expectations and approach to work is different between employees and entrepreneurs.
When you chose to do network marketing, and when you chose to take part actively in attraction marketing, you chose a PROFESSION.

And this profession requires a different professional skill set than that of an employee.
Doesn't it make sense that acquiring a new professional skill set might take some time, before the big bucks roll in?
And how much time do you think is reasonable to acquire such a valuable, professional skill set?
Becoming an engineer, or a doctor, or an accountant requires an ENORMOUS amount of time and effort to acquire the necessary skills.
Those people invest years to study, learn, take and action…and still will make mistakes, experience challenges, and disappointment along the way.
Quitting at the first sight of adversity, wouldn't even make sense in a professional context, would it?
A doctor wouldn't just give up on a patient cause they can't cure them and think, "Well, I guess medicine is a scam!"
Nor would an engineer quit because of setbacks or unexpected challenges (these are part of the job description).
Instead, they evaluate their results, learn from them, and improve upon them.
Professionals deliver value and get paid for using their skills
So how might you EVALUATE your current results in order to learn and improve your skills (and ultimately get paid).
Here's what I recommend…ask yourself pointed questions after taking action…
What can you learn from these results?
What worked?
What didn't work?
What can I tweak?
What might I do differently?
What are my next steps?
And then you repeat.
This skill development process is actually a simple cycle
Study
Take action
Evaluate
Repeat
You have to work to acquire a skill, the skill (at that level) allows you to produce a result proportional to your mastery of the skill, and the result provides valuable information to study, evaluate, and improve.
The result may also come in the form of money earned, and you can take that money an invest further in the acquisition of new skills or the enhancement of a skill you already possess.
As you learn, your investment can be in ads, education, or upgrading your coaching.
That's how to approach this new profession – like a professional.
Ultimately, the people who get paid in this profession, whether they're affiliates, in direct sales, or network marketing, are the people who acquire the skill sets, not the people who promote a certain program or opportunity over another.
A certain program, a certain website, or a certain "thing" will not get you there.
What will get you there is your own skill development, and the actions you take.
So ask yourself…
"What action can I take today that might yield a result?"
Study how to do it, go ahead and do it, and you'll get a result.
That's all you need to do.
Focus on getting ANY result – good, bad, or indifferent
Once you get a result, you have something to evaluate.
You now have the opportunity to learn and grow.
Most of what you learn will come from taking action and getting your own results, more so than from what any course or book might teach you.
But if you choose not to look at it that way, you are giving other network marketers an unfair advantage.
It's a marathon, not a sprint.
Set aside a budget and invest in yourself, so you can take the action and get the feedback you need to continue to learn.
Without taking action, you cannot learn
That's how entrepreneurs get paid.
You can't get results without taking action.
And you can't take action without learning relevant skills.
So how do you get the skills of a modern online network marketer?
Well, we reveal today's most-current, cutting-edge attraction marketing strategies in our FREE Online Recruiting Bootcamp.
Plus, you'll discover the exact methods our mentor personally used (and is still using) to build a successful lifestyle business from home.
So set yourself up to learn the right skills, take action, evaluate your results, and repeat!
Simply click the orange button to get instant access to our 10-Day Online Recruiting Bootcamp, created and narrated by our mentor Ferny Ceballos.
FREE INTERNET RECRUITING COURSE
Finally, An Easy Way To Recruit Into Your Network Marketing Business – Rejection FREE – Without Wasting Your Time & Money Chasing Uninterested Prospects & Leads...
Claim Your FREE Internet Recruiting Bootcamp...
Portions of the content above were written by Ferny Ceballos and used with permission. Original article can be read here.